K. J. Alphons Kannanthanam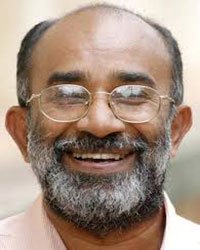 Contact Details
K. J. Alphons Kannanthanam
Kannanthanam
Manimala
Kottayam Dist.
Pin – 686536
About
K. J. Alphons Kannanthanam (born 8 August 1953), is an Indian politician, hailing from Kottayam District, Kerala, India. He was the Member of the Legislative Assembly, from Kanjirappally in Kottayam District.[2] Prior to joining politics, he was an officer of Indian Administrative Service. He joined the BJP in 2011.
Early life
Alphons Kannanthanam born in Manimala, in Kottayam District, to K.V.Joseph and Brijith Joseph. His father was a World War II veteran, who became a school teacher after the war. His parents had nine children; they adopted two more from the orphanage.
Kannanthanam had his school education in the nearby Malayalam medium village schools. He completed his masters in Economics, and was one of the toppers of the Civil Services Examination in the year 1979.
Kannanthanam worked in the Indian Administrative Service until 2006, when he was elected a Member of the Legislative Assembly, from Kanjirappally in Kottayam District, Kerala. He is also a practicing advocate in the High court and the Supreme Court of India.
Political Career
Alphons Kannanthanam came to the limelight when he served as the district collector of Kottayam in 1988. He drove the literacy movement in the state and helped make Kottayam town as the first 100% literate town in India in 1989. He rocketed to prominence later as the Commissioner of Delhi Development Authority, when he demolished illegal buildings and reclaimed land worth more than Rs. 10,000 crores (10,000 crores at that time ,present value is many times larger ). These actions earned him the title, The Demolition Man. Times of India survey showed that 89.6% Delhiites supported his action, the highest rating for any public official any time. The action also listed him in Time Magazine's 100 young global leaders in 1994 (cover story-5th Dec, 1994). In 2006, he resigned from the IAS and entered politics by becoming an LDF supported independent Member of the Legislative Assembly from Kanjirappally.On 24 March 2011 Alphons joined the BJP in the presence of party president Nitin Gadkari. He had resigned from his assembly seat a couple of hours before he joined BJP.
---